Our assembly capabilities include rigid & flexible type PCBA circuit boards and surface mount (SMT), thru-hole, and mixed technology components.
Tin/Lead or Lead free soldering is available.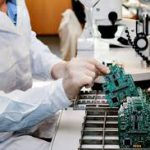 Manufacturing operations include SMT machine & manual component placement, thru-hole component forming and insertion, hot air solder reflow, wave solder, hand solder, electro-mechanical assembly, PCB panel & box builds, electrical testing, and PCB adhesives and conformal coatings.
We offer scheduled, unscheduled, small lot, and quick build capabilities.
Manufacturing capabilities
SMT, Thru-Hole, and Mixed PCB assembly
Lead-Free (ROHS compliant) soldering
Flexible PCB assembly
LED PCB assembly
RF PCB assembly
Electrical Testing
PCB Modifications & Rework
PCB Potting and Adhesives
PCB Conformal Coatings